Chef Matthieu Pasgrimaud
Behind the scenes with Chef Matthieu Pasgrimaud of "Le 1825"
"KOTAI is a brand with which we enjoy collaborating on food projects."
Matthieu Pasgrimaud is a French chef and the proud owner of Restaurant 1825 in Beaupréau-en-Mauges, a commune in western France's Maine-et-Loire department. It is located in the Pays de la Loire region. His interest in cooking started at an early age, and he has continued to pursue it since then.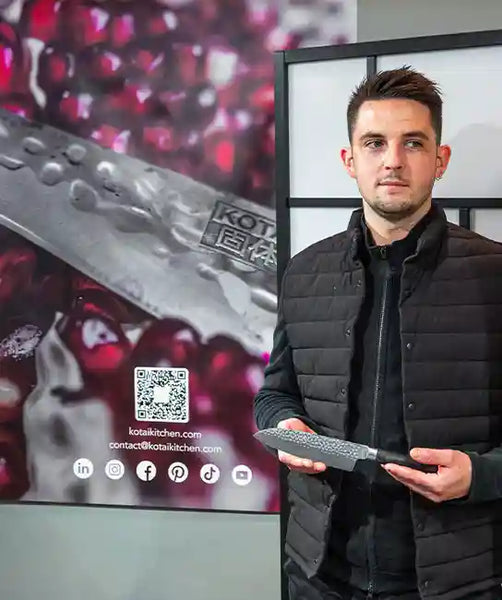 Pasgrimaud moved to London after finishing his culinary training in France to hone his skills and work with some of the industry's best chefs. He then returned to France, where he worked at several Michelin-starred restaurants before opening his own, Restaurant "Le 1825," in 2020, which also received a Michelin star. Matthieu has travelled France with his knives, working in some of the most prestigious restaurants, including one with chef Arnaud Donckele. As a result, he was able to obtain enriching and prestigious training.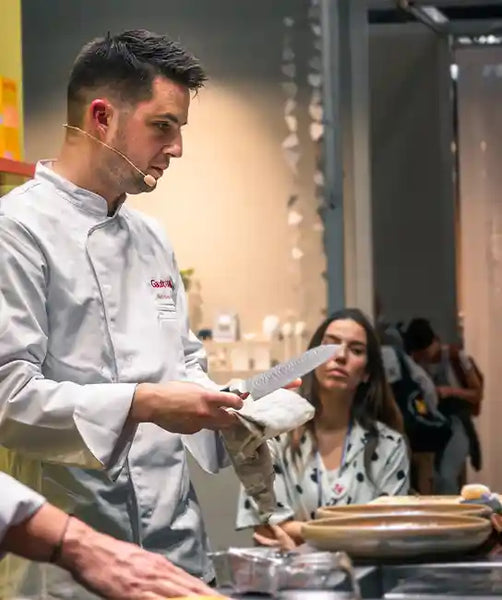 Pasgrimaud uses seasonal ingredients and sources them locally to create dishes that are both flavourful and visually stunning. Matthieu Pasgrimaud is a talented chef who has established himself in the culinary world. His dedication to quality, innovation, and locally sourced ingredients has earned him a devoted following and a well-deserved reputation as one of France's rising culinary stars.
An inside look into the Michelin-starred Le 1825 with Chef Matthieu Pasgrimaud
"KOTAI is a reliable brand" - Matthieu Pasgrimaud
KOTAI had the privilege of interviewing French chef Matthieu Pasgrimaud at the Maison et Objet exhibition in Paris in 2022. Pasgrimaud owns the acclaimed restaurant "Le 1825" in Gesté, Beaupréau-en-Mauges, Pays de la Loire, western France.
Pasgrimaud's dedication to his craft and the thought that went into his dishes impressed KOTAI. His attention to detail and commitment to using high-quality ingredients aligned with KOTAI's own food industry values of excellence and sustainability.
Le 1825: A Michelin-Starred Dining Experience
"Le 1825" is a Michelin-starred restaurant in the picturesque town of Beaupréau-en-Mauges in France's western Loire Valley. Matthieu Pasgrimaud, a talented French chef who has earned critical acclaim for his innovative cuisine and use of fresh, locally sourced ingredients, owns and runs the restaurant.
Le 1825's menu is a celebration of French gastronomy, with an emphasis on local, seasonal ingredients. Chef Pasgrimaud is known for his innovative approach to classic dishes, incorporating unexpected flavours and textures to create visually stunning and delectable dishes. The menu is updated on a regular basis to reflect the changing seasons and availability of fresh ingredients.
Indulging in the culinary delights of "Le 1825"
Overall, Le 1825 is a must-see for gourmets looking for a memorable dining experience in the Loire Valley. Le 1825 is sure to impress even the most discerning diners with its outstanding cuisine, warm and welcoming atmosphere, and exceptional service.
KOTAI's interview with Matthieu Pasgrimaud was a highlight of the show. Speaking with such a talented chef and learning about his approach to cooking and running a successful restaurant was inspiring.

To discover more about "Le 1825" please visit their website.